NES Infoceuticals
Designed to be taken at home in an ongoing daily protocol, our solutions allow you to address the body´s energy environment and help turn on the body´s self-repair system – directly impacting
the physics of the body where the physical biochemistry and its quality are determined.
Encoded with corrective information that helps the body return to its optimal blueprint for health and wellness, our unique line of Infoceuticals is based on our proprietary and extensive mapping of the human Body-Field over the past 30+ years.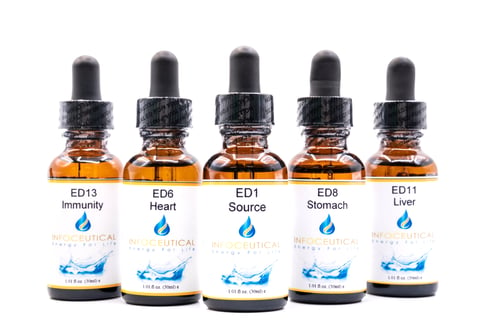 Each of our solutions is imprinted with specific bio-information. Their success lies in perfectly matching to a specific organ, system or sub-system of the body through our cutting-edge imprinting technology developed exclusively at our R&D center.
The remedy lies in the imprinted information. Infoceuticals contain filtered water and plant-derived microminerals. These micro-minerals are the substance imprinted with the corrective bio-information.
The imprinted information is immediately absorbed and the Infoceutical then interacts directly with the Body-Field.
Infoceuticals help to restore the body's balance, information and energy flow.