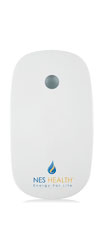 Assess
Our system measures hundreds of wellness points in just seconds with remarkable accuracy. Instantly know where the body needs support.
Unblock
NES miHealth combines SCENAR (with biofeedback), PEMF, and global scaling with proprietary bio-signals to support the body's energy flow.
Correct
Our proprietary liquid remedies, NES Infoceuticals, correct information in the body's control system, supporting its self-restoring abilities.