INFOCEUTICAL® Solutions
Designed to be taken at home in an ongoing daily protocol, our solutions allow you to address the body's energy environment and help turn on the body's self-repair system – directly impacting the physics of the body where the physical biochemistry and its quality are determined.

Encoded with corrective information that helps the body return to a more optimal blueprint for health and wellness, our unique line of INFOCEUTICAL® solutions is based on our proprietary and extensive mapping of the human body-field over the past 30+ years.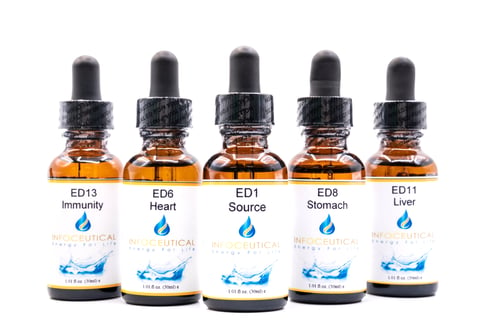 Our Infoceutical® solutions are imprinted with specific bio-information. Their success lies in resonating with and helping to restore the ideal state of the body's organs, systems, and sub-systems through an underlying control system. They are produced with our cutting-edge imprinting technology developed exclusively at our R&D center.
The secret of correcting the body's control system lies in the information imprinted in these remedies. Infoceuticals contain filtered water and micro-minerals, and they're imprinted with specially modulated photons under a high-voltage electrostatic charge. This sets up specific resonant qualities to support improved function in the body.