NES Health not only provides you with powerful bioenergetic wellness solutions. It also provides you with powerful business solutions to help you more easily run a successful practice and help more people regain their energy for life. Here's just an overview of how we help you to succeed with our platform.
Your Own Website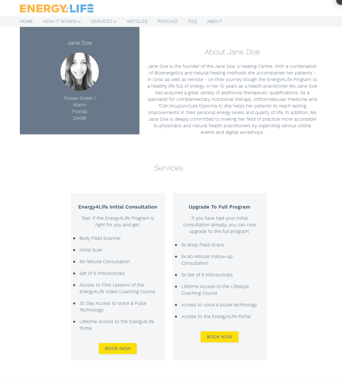 We've built a beautiful website for you to use. It is fully responsive, which means it looks great on any device.
The site explains all about bioenergetics, the NES Health scanning technology, Infoceutical® solutions, and miHealth. It also explains our powerful lifestyle program, which educates your clients on healthy living and encourages them to get active in their wellness process with practical steps they can take. *Your site would also include an "About Us" page that you can customize.
Content Development
Beyond all the pages describing your bioenergetic services, your site also includes articles, videos, and podcasts that we develop, so your clients can always learn something new from you.
You can also develop your own articles to showcase your expertise and help attract search engine traffic to your website. Your articles are searchable from the main website's blog, so as our branding efforts bring them to our site, but they search and find your article, you may win them over as a client!


Contact Me Now With More Information!
Payments & Scheduling
When someone's ready to give bioenergetics a try, no need to take calls and payments and set appointments yourself. We have automated this for you.
Let us know what hours you want to work each day, and how much time you need between appointments. We'll take care of the rest. Clients will see your available appointments and set themselves up (with time zones accounted for). We'll even send them (and you!) a reminder beforehand.
Intake & Follow-up Forms
You always need information about incoming clients – what are their lifestyle habits? How are they feeling? What are their symptoms? What are their goals? This helps you know what to address with them, show them how their scans connect with their concerns, and more. It's the foundation to good coaching.
We've automated the process of collecting this critical information when a new client is coming on board. Each client is automatically assigned a form so you don't need to lift a finger. And it's stored in their profile, so you know exactly where to find it for review. (No more storing paper files!)
We thought through all the questions that could be asked of an incoming client and boiled it down to what was really critical, getting you the information you need without overwhelming clients. (But you can add your own questions as well.) To make it even easier, we built as much as possible around checkboxes and drop down selections so you get an incredible amount of information from just about 20 minutes of your client's time.
On top of that, we automatically send follow-up forms 28 days after each scan to track the changes people are seeing when they're taking Infoceuticals. Have their symptoms changed? What about pain, energy, or overall health levels? Questions connect directly back to the Intake form (though follow-ups should take 5 minutes or less to complete), so you can track progress over time.
Best of all, we'll continually work to make this kind of data accessible and easy to understand so it has real meaning for you and your clients. And while protecting personal data, we'll be able to look at this information across all clients to see what makes the biggest difference … and in what situations. This will let us give you deeper insights and drive innovation to get you better results.
Video Conferencing
When it's time to meet your client, there are plenty of solutions, most with their complications. The client needs to download some software, add you as a contact, or push some button that you're sure they should see, but they cannot find it anywhere.
We've developed a solution so clients just log into their NES Health portal, select their appointment, and click to join you in a live video conversation. Yes, it's really that easy!
Messaging
Between appointments, clients sometimes need support, and we make it easy for you to stay in touch. Our new portal can be kept open in a smartphone browser where it will work like an app. This lets you and your clients communicate through our built-in messenger. So if they have questions about how to take Infoceuticals or something they're experiencing, you can quickly give reassurance and guidance.
Lifestyle Course
Now that your business is easier to run, it's time to expand what you offer, making you more valuable than ever to clients. This brings us to our powerful, science-based Lifestyle course that guides your clients step-by-step toward healthier living. Their engagement in their wellness process is a crucial part of getting the best results, and we make it simple for them … and for you!
This course offers 24 video lessons, each about 30-60 minutes long, guiding your clients on topics ranging across Body, Mind, Environment, and Social issues, with 6 lessons in each of these areas. They'll learn how to make better decisions around eating, cleaning up their environment, keeping a positive mindset, and improving relationships with those around them. Combined with Infoceuticals and miHealth solutions, a truly holistic program.
At one video per week, it provides guidance throughout the 6 months of bioenergetic services they'll receive from you during the program, and at a pace they can keep up with.
Best of all, with the lessons recorded for you, there's no need for you to feel like an expert on these topics. Even if you are, there's no need for you to repeat the same information to every client. We do it for you! This lets you focus on encouraging them to take these important lifestyle steps and providing other support that is unique to you.
Client Shop
When clients log into their accounts, they will see a client shop where they can buy additional Infoceutical® solutions, our miHealth device, and other curated wellness products from which you will earn on every purchase. In short, you have a store that is stocked for you, that takes orders and handles deliveries, and you simply enjoy the growth of your business as a result.
How the Model Works
The program is designed as an all-inclusive 6-month program for your clients. It combines monthly scans and Infoceutical® solutions with weekly video lessons to engage clients in their wellness process with internal and external lifestyle changes. This approach ensures that you're working with more committed clients and gives you time to help them see results. This is only fair to both you and them.
The total cost of the program covers:
The NES Health scanner
One 90-minute coaching call to get them started
Five 60-minute coaching calls over the remaining five months
5 Infoceutical® solutions (including shipping) following every appointment
Unlimited access to the Lifestyle Wellness course
Your answers and encouragement along the way so they never feel alone
This is easily worth over $2800, but the program can be sold for much less. There is a minimum price to the package, so there's no need for practitioner to get into a "race to the bottom" on pricing – everyone should be paid well for the incredible results their clients are likely to see. But you can also raise your rates if you like, reflecting the unique value that you bring to your clients.
**Please note that you are NOT required to work with your clients through the platform. But it's a powerful program designed to maximize your results and simplify the process of running your business.
We recommend getting people to your site to download the free book and watch as your business begins to expand and you start successfully helping more and more people recapture their energy for life!
Learn More Today